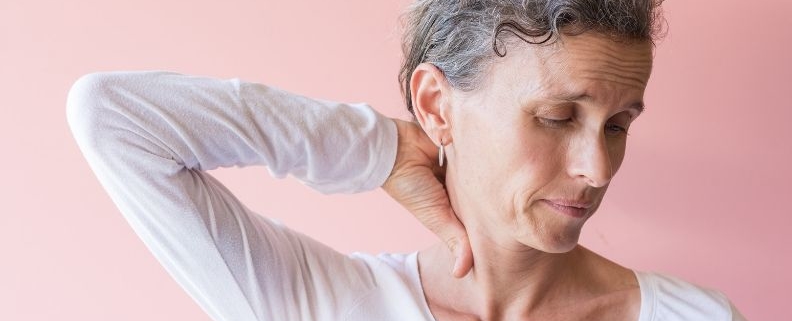 Our Top Tips to Treat and Prevent Neck Wrinkles and Visible Signs of Aging
Let's face it! Your face is the most prominent part of your body. It's at the centre of our beauty rituals: moisturising, exfoliating, anti-aging treatments, sunscreen and the list goes on. There is one thing you might have missed, though: the neck.
You can often tell a person's age by looking at their neck. Your neck skin is commonly overlooked when it comes to wrinkle prevention and anti-aging. That's why we've prepared this 8-step guide on how to take better care of your neck and décolletage.
8 Tips to Treat and Prevent Neck Wrinkles
1 – Moisturise Your Neck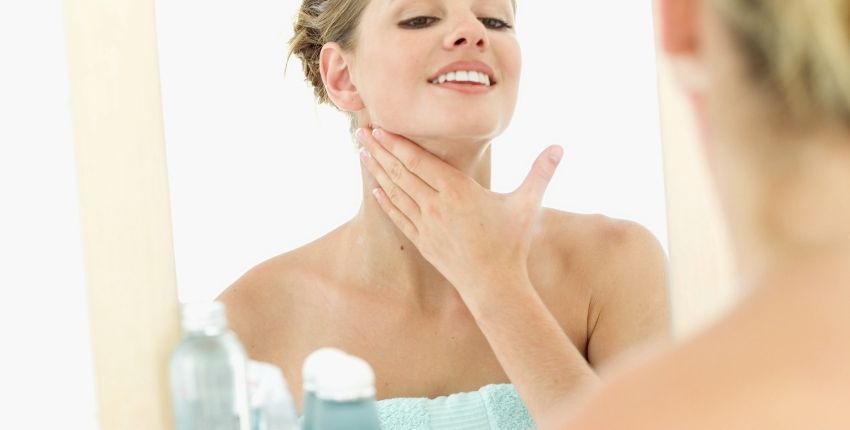 Image: Don't forget to moisturise your neck.
Start the day with a moisturiser that will keep your neck skin hydrated and fresh. The same moisturiser you apply to your face, you can also apply to your neck. Why should you moisturise your neck and face daily?
Daily moisturiser applications help with the following:
Boost skin hydration
Prevent flaking and dullness
Creates a protective layer of moisture that lasts all day
By moisturising in combination with your anti-aging products, you may increase the odds that they'll work better
Try Revision DEJ Face Cream. It has moisturiser and anti-aging benefits in one product.
---
2 – Apply a Neck Specific Anti-Aging Treatment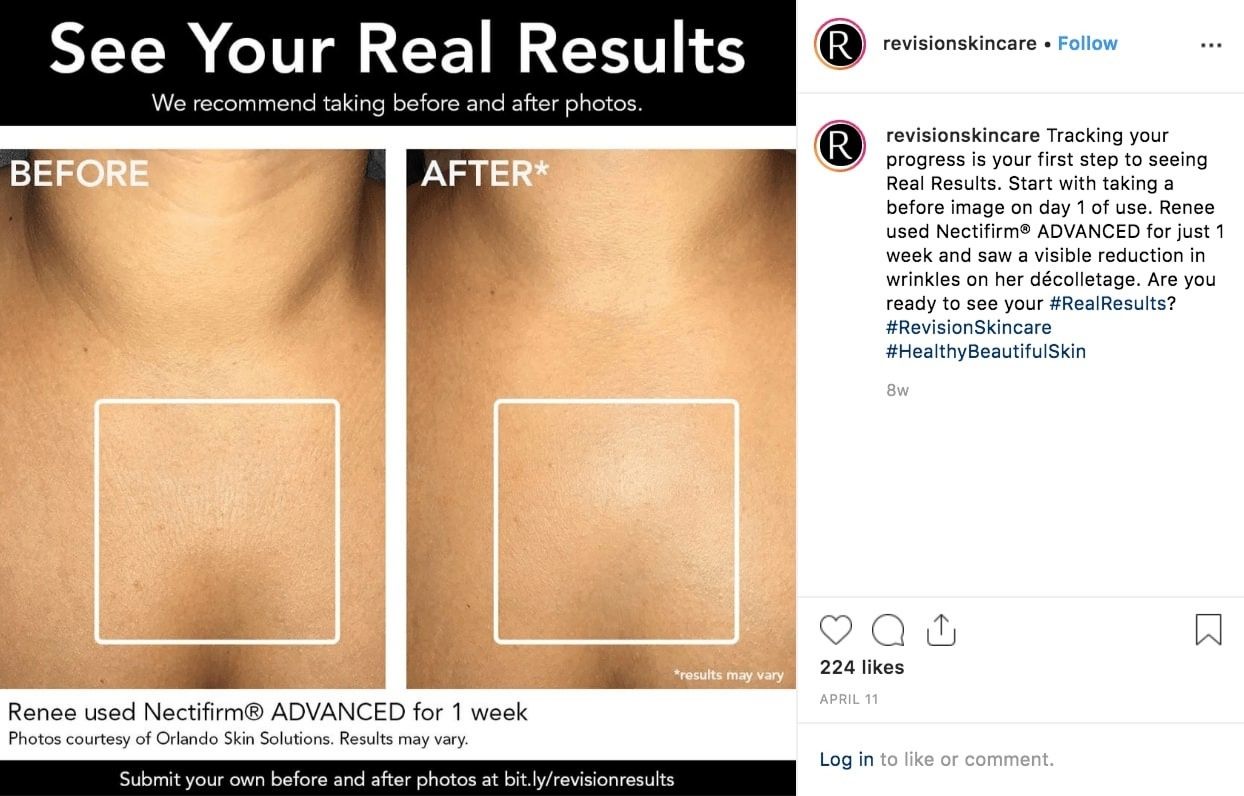 Image: Revision Skincare Instagram
The skin on your neck is different to the skin on your face. The signs of aging are also different on your neck compared to your face.
There are several signs of aging unique to the neck region.
These signs may include:
Loose or sagging skin
Rough or crepey skin
Horizontal lines
Deeper set lines
The dreaded 'turkey neck'
Adipose tissue (loose connective tissue composed of adipocytes/fat)
That's why it's recommended to use a neck-specific anti-aging product for a younger-looking neck and décolletage.
How to Treat and Prevent Neck Wrinkles
What neck product do we recommend to target neck wrinkles and other signs of neck aging? We recommend the same product that comes recommended by medical professionals – the Nectifirm® range of products .
They are the number one neck brand recommended by medical professionals according to a recent study by Kline & Company.
Nectifirm® was recently voted #1 by US Doctors in neck products – a major achievement for a topical skin product.
Nectifirm targets early to moderate signs of aging and can also be useful in preventing future visible signs of aging.
Nectifirm ADVANCED, the newest product, targets visible signs of moderate to advanced aging with eight distinctive peptides.
Both products help to reduce the appearance of adipose tissue (fat) and rough, crepey skin while also smoothing the appearance of lines and wrinkles.
Find out what Nectifirm product is right for you here.
Neck Wrinkles Before and After Images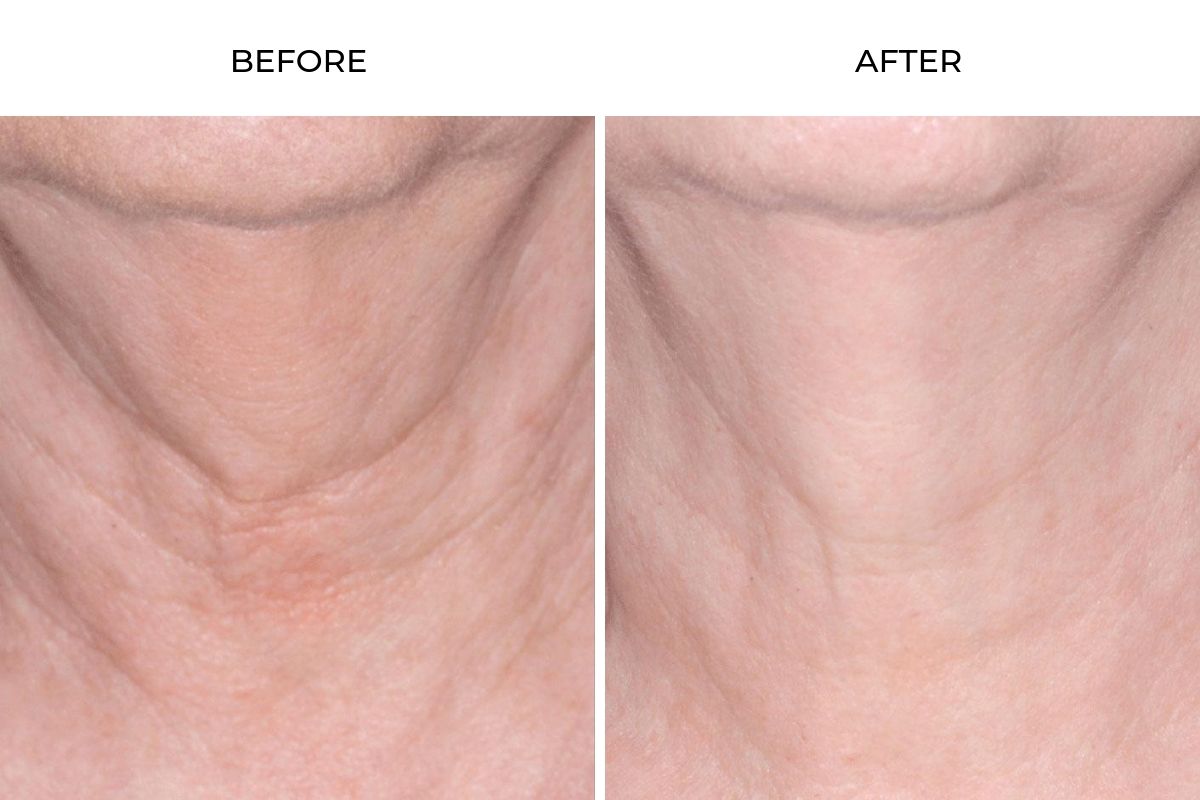 *After 8 weeks. Nectifirm® used twice daily, A.M. and P.M. No other products or treatments were used. Photos courtesy of Victoria Cirillo-Hyland, MD, and Colleen Witmer, Spa Director, Cirillo Cosmetic Dermatology Spa, Bryn Mawr, PA. Results may vary.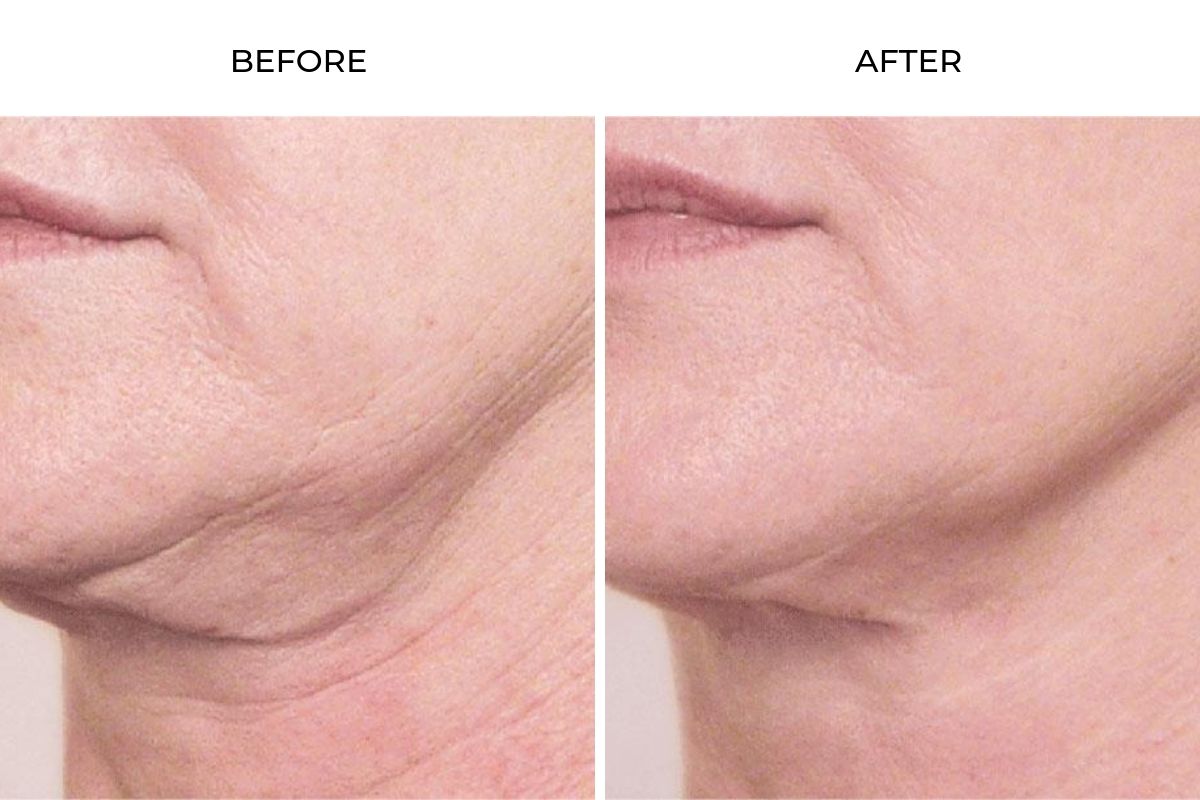 *After 7 weeks. Nectifirm® used twice daily, A.M. and P.M. No other products or treatments were used. Photos courtesy of Theresa Jarmuz, MD, Buckhead Facial Plastic Surgery, Atlanta, GA. Results may vary.
---
3 – Adjust Your Diet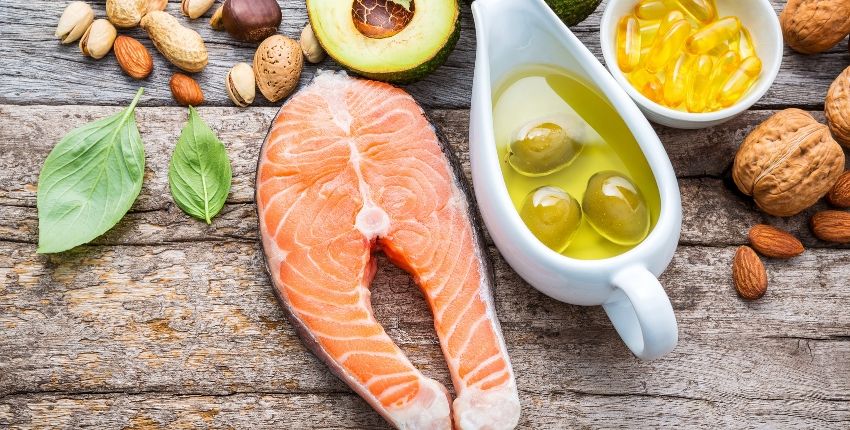 Image: Fish, olive oil, nuts and avocado do wonders for your skin.
Our diet defines our health, so you shouldn't overlook it! When it comes to looking after the delicate skin of your neck, getting the right nourishment is vital. This means internal nourishment from the foods we eat, but also externally from the products we apply to our skin.
By eating a diet with foods rich in vitamins and minerals, you provide the necessary nutrients for your neck skin to stay hydrated and properly mineralised. This helps to reduce that "wrinkle-mania". Important vitamins include C, E and A, all of which can be found in abundance in fruits and vegetables. The best way to eat these is as raw as possible, as heat and cooking may lead to nutrient loss.
Diet and Premature Aging Study
In fact recent research, published in the Journal of Dermatoendocrinology, reveals an interesting link between nutrition and skin aging.
Using data from the first National Health and Nutrition Examination Survey, the association between nutrient intakes and skin aging was examined in 4025 women (40–74 y).
The taking of fish oil, containing linoleic acid, was associated with a lower likelihood of skin dryness and skin atrophy. Study participants received dietary supplements of fish oil rich in omega-3 polyunsaturated fatty acids. The result was a reduction in UV-induced inflammation.
Those participants who took an oral antioxidant mixture containing vitamin C, vitamin E, pycnogenol and evening primrose oil, significantly inhibited wrinkle formation caused by UVB irradiation.
While this may sound a little technical, the take home message is that a healthy diet has proven benefits in the battle against the signs of premature skin aging.
---
4 – Drink Water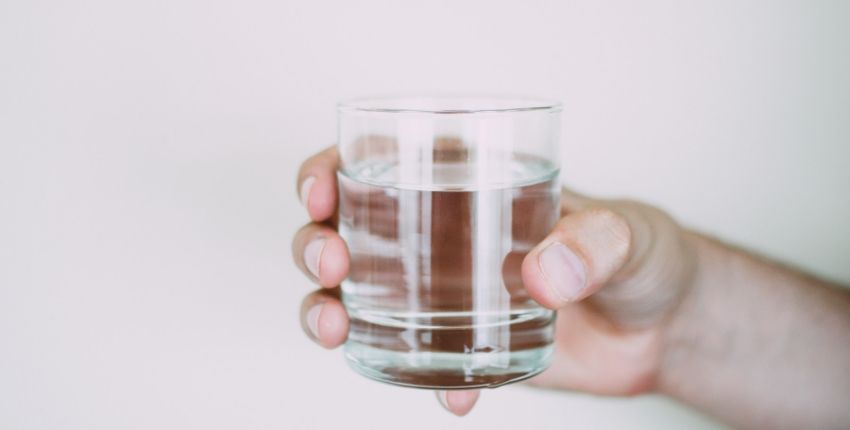 Image: stay hydrated through the day.
If you're one of those people who rarely drink water and only when they're extremely thirsty, then you are in immediate need of a water-drinking plan. Unfortunately, it isn't always easy to know for sure that you're getting the right amount every single day. That's where hydration apps come in. Install an app on your phone and put notes in your diary, tracking your progress.
Make a habit of drinking 2 cups of water first thing in the morning. 8 cups of water a day is recommended to keep your body hydrated and your neck skin swell.
We've looked for the best hydration apps, based on user ratings, quality content, and general reliability, so you can track your daily water intake for better health.
Check out this list of hydration apps.
---
5 – Wear Sunscreen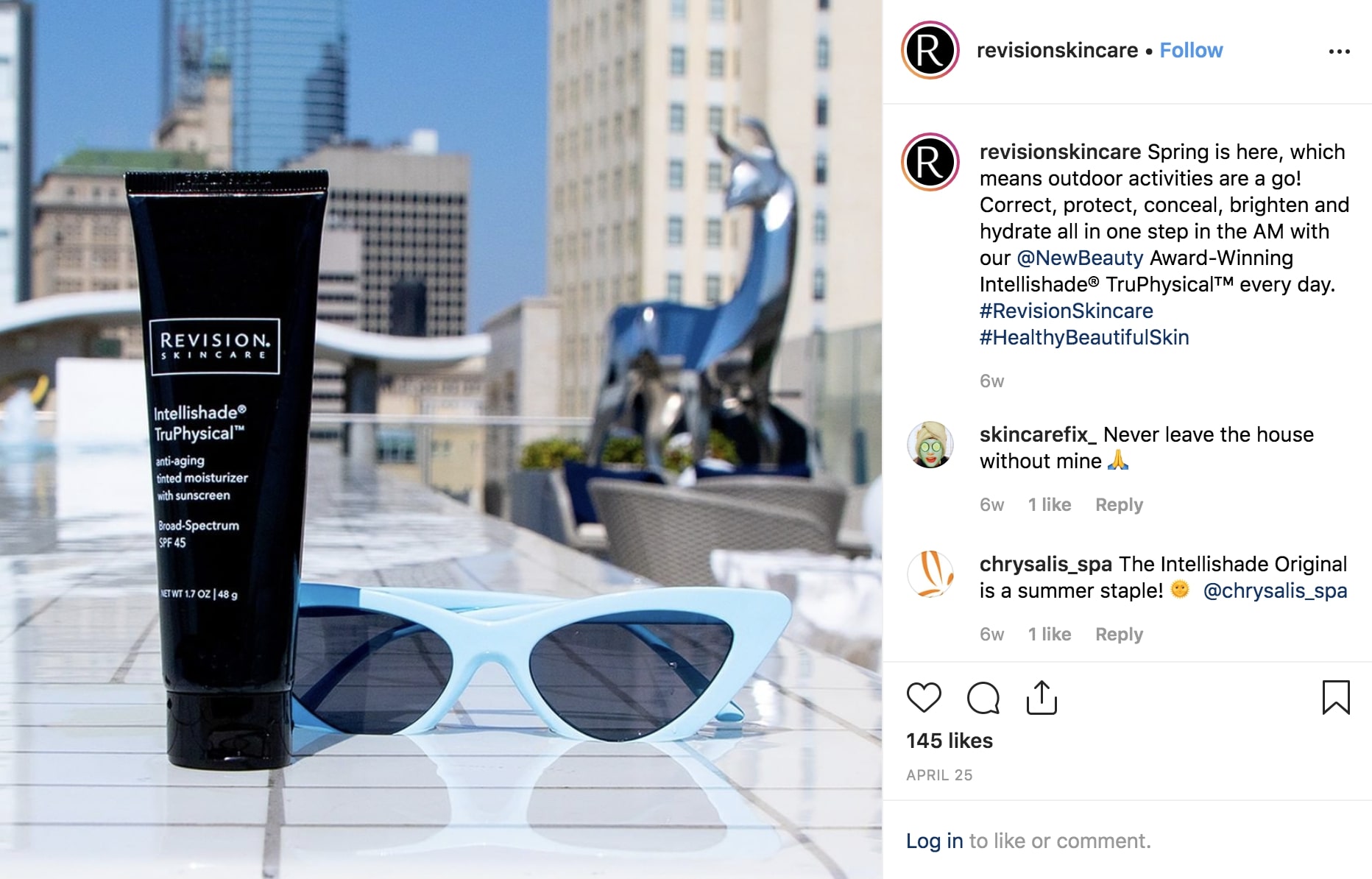 Image: Revision Intellishade TruPhysical tinted moisturiser with sunscreen, Revision Instagram.
Neck wrinkles often appear because of too much sun exposure and subsequent sun damage from it. So, always consider having a sunscreen of at least SPF 30 in your bag. Important note! For the sunscreen to truly be effective, you need to apply it every two hours. Let's say you forgot your sunscreen at home and it's a sunny day. Put a scarf around your face and neck, or wear a broad brimmed hat, to protect your skin from the burning sun rays.
Sun protection is very important especially in Australia, as we have one of the highest rates of skin cancer in the world.
We recommend these SPF products.
---
6 – Exercise Your Neck
Physical exercises tighten and tone your muscles. This applies to your neck as well! Toned and trained muscles mean better, more taut skin and fewer wrinkles. Simple exercises work better than you think and they might even be fun.
For example, sit down on a chair and look up at the ceiling. Then, pluck your lips as if you're giving your chandelier a kiss. Not just an every day kiss, but a big, smooshy, over exaggerated kiss!
You should feel your skin really tightening while your neck muscles are worked intensely with this type of exercise. See how you go with it.
You could also try a variety of 'face yoga' stretches to tighten up a saggy neck.
Watch this video called '5 Face Yoga Exercises to Tighten a Saggy Neck with Danielle Collins' for a visual guide on how to perform these stretches! With close to 1 million views, this is definitely a good video to watch!
Video: The Face Yoga Expert.
---
7 – Exfoliate Your Neck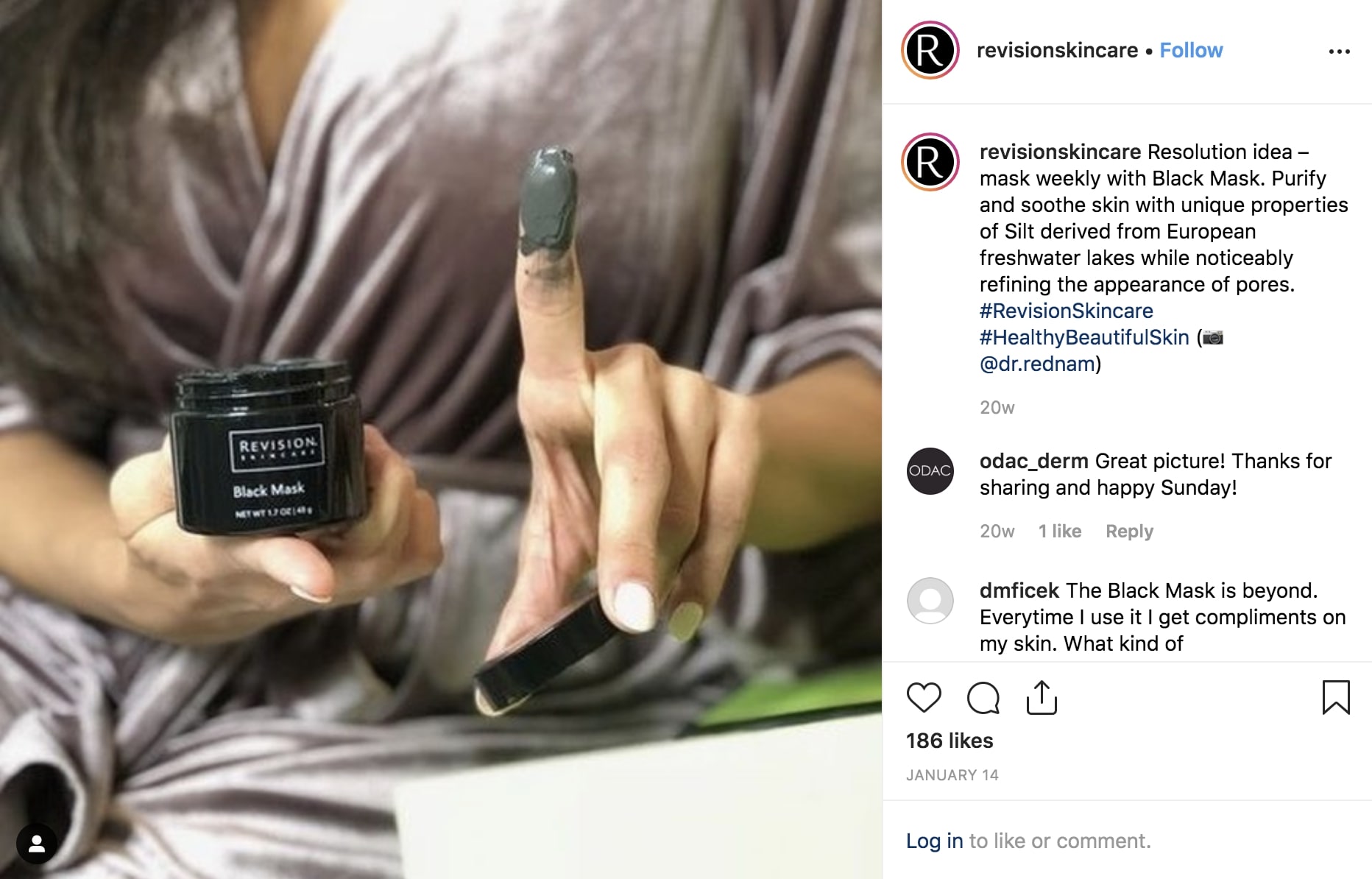 Image: Revision Skincare Instagram. 
We recommend you exfoliate the skin of your neck at least once a week. It helps cells regenerate faster and, of course, you get rid of dead skin and dirt accumulated during the week. Choosing the right exfoliator for your skin is important, as one that is too harsh may get you in trouble.
Have a look at Revision Skincare's Black Mask purifying facial mask for a smooth, polished complexion.
Use this on your face and neck to leave your skin looking polished and smooth. It also helps to noticeably refine the appearance of pores.
---
8 – Surgical Treatment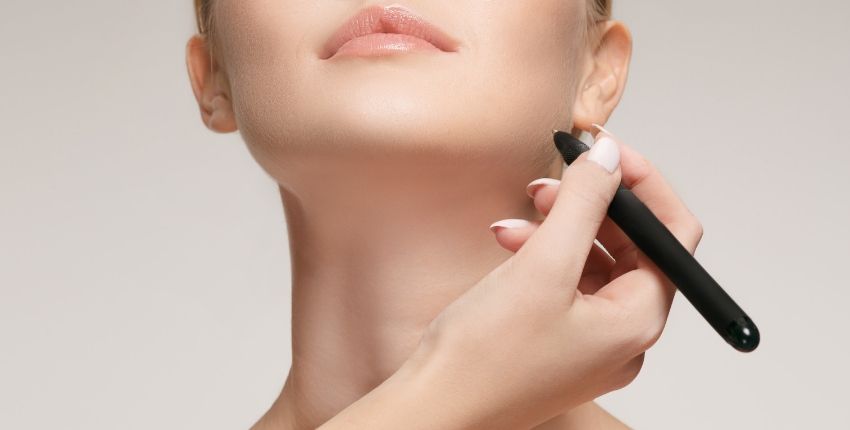 Image: Many surgical procedures exist for the neck.
There is always the surgical solution should you wish to go this way. There is a whole range of surgical treatments you can choose from, depending on your desired results and situation.
A neck lift, or lower rhytidectomy, is a surgical procedure that improves visible signs of aging in the jawline and neck.
A neck lift may help with the following:
Removal or reshape excess fat and skin around the lower face and neck
Removal of excess fatty deposits under the chin
Tighten up loose neck skin
Correct muscle banding in the neck, which creates unusual contours
---
Fight Neck Wrinkles with a Daily Beauty Regimen
We conclude by saying that a daily beauty regimen still remains a great solution in addressing the visible signs of neck aging while helping to prevent further signs of aging. A daily beauty regimen paired with the tips in this article will defend your décolletage for years to come.
Diet is important, exercising is also good and choosing the right moisturiser will keep your neck skin fresh, hydrated and ready to face all the challenges of the day. Don't forget about the sunscreen and always carry a scarf in your bag for special 'sun' emergencies! An anti-ageing product is also a good idea to soften the already-existing wrinkles and prevent the apparition of the next ones.
With patience and good care anything is possible! We invite you to try the Nectifirm range of products: proven technology for firming the appearance of the neck.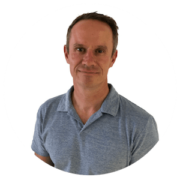 https://www.envogueskin.com.au/wp-content/uploads/2019/06/neck-wrinkles.jpg
430
792
Ian Carroll
https://www.envogueskin.com.au/wp-content/uploads/2019/03/envogue-skincare-logo-black.png
Ian Carroll
2019-05-30 15:19:17
2019-07-05 08:13:09
Top Neck Wrinkle Prevention and Treatment Options